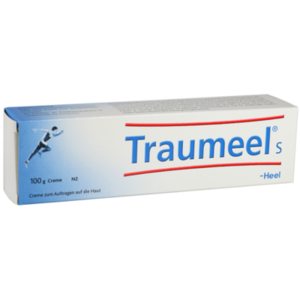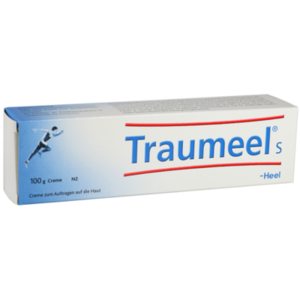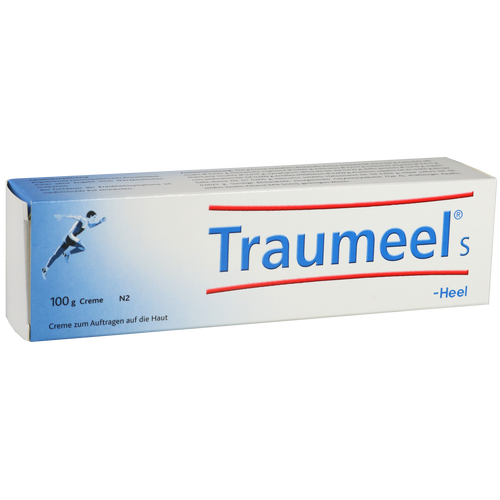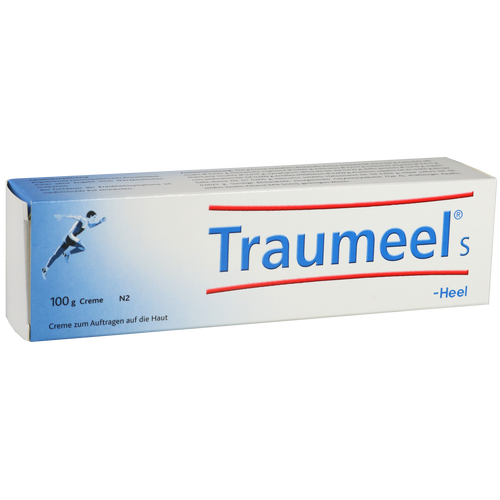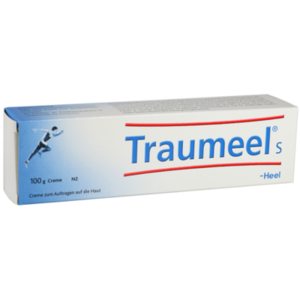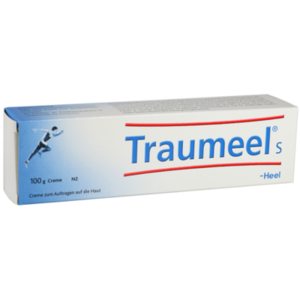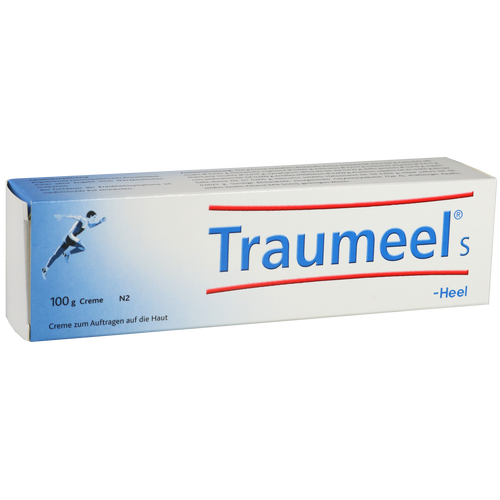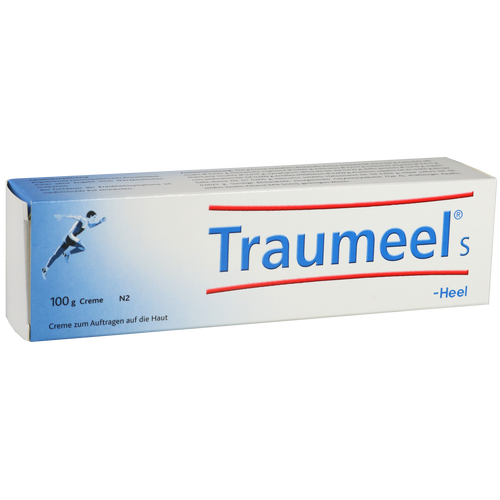 1-3 days, depending on the destination
TRAUMEEL S Cream
100 g cream with homeopathic ingredients for the support of musculoskeletal complaints
Manufacturer
Biologische Heilmittel Heel GmbH
Contain
100 g
Pharmaceutical form
Creme
PZN
01292358
Basic price:
€120.00 / 1 kg 3
Other pack sizes
incl. VAT plus shipping if applicable
For medicines: For risks and side effects, read the package insert and consult your doctor or pharmacist.
For veterinary medicines: For risks and side effects, read the package insert and ask your veterinarian or pharmacist.
Personal support & advice
National & international shipping
Customer service +49 2822 791986
Details
Traumeel S Cream 100g
The cream is a homeopathic medicine with natural ingredients such as arnica, comfrey, calendula, echinacea and other ingredients. Based on many years of experience, the cream is used for typical blunt injuries - these include sprains, bruises, haematomas, joint complaints and swellings.
Application:
Apply 1-3 times daily to the affected areas or use as an ointment dressing. Traumeel tablets can also be combined.
Source: traumeel.de
Details
Providers
Biologische Heilmittel Heel GmbH
Application notes
Die Gesamtdosis sollte nicht ohne Rücksprache mit einem Arzt oder Apotheker überschritten werden.

Art der Anwendung?
Tragen Sie das Arzneimittel dünn auf die betroffenen Stellen auf, gegebenenfalls auch als Verband. Vermeiden Sie eine großflächige Anwendung. Bei der Anwendung als Verband nur luftdurchlässige Materialien (z.B. Baumwolle) verwenden.

Dauer der Anwendung?
Ohne ärztlichen Rat sollten Sie das Arzneimittel nicht über einen längeren Zeitraum einnehmen. Bei der Anwendung von homöopathischen Arzneimitteln können sich vorhandene Beschwerden vorübergehend verschlimmern (Erstverschlimmerung). In diesem Fall sollte das Arzneimittel abgesetzt und ein Arzt konsultiert werden.

Überdosierung?
Es sind keine Überdosierungserscheinungen bekannt. Im Zweifelsfall wenden Sie sich an Ihren Arzt.

Generell gilt: Achten Sie vor allem bei Säuglingen, Kleinkindern und älteren Menschen auf eine gewissenhafte Dosierung. Im Zweifelsfalle fragen Sie Ihren Arzt oder Apotheker nach etwaigen Auswirkungen oder Vorsichtsmaßnahmen.

Eine vom Arzt verordnete Dosierung kann von den Angaben der Packungsbeilage abweichen. Da der Arzt sie individuell abstimmt, sollten Sie das Arzneimittel daher nach seinen Anweisungen anwenden.
Dosage
Allgemeine Dosierungsempfehlung:
| | | | |
| --- | --- | --- | --- |
| Säuglinge, Kleinkinder, Schulkinder, Jugendliche und Erwachsene | eine ausreichende Menge (dünn) | 1-3-mal täglich | unabhängig von der Tageszeit |
Application areas
- Registriertes homööpathisches Arzneimittel, daher ohne Angabe eines therapeutischen Anwendungsgebietes
Mode of action
Wie wirken die Inhaltsstoffe des Arzneimittels?

Es handelt sich um ein homöopathisches Arzneimittel. Langjährige Erfahrung hat gezeigt, dass das homöopathische Arzneimittel bei bestimmten Beschwerden helfen kann.
Composition
Based on 1 g Creme
15 mg Arnica montana
4,5 mg Calendula officinalis
4,5 mg Hamamelis virginiana
1,5 mg Echinacea angustifolia
1,5 mg Echinacea purpurea
1,5 mg Chamomilla recutita
1 mg Symphytum officinale
1 mg Bellis perennis
0,9 mg Hypericum perforatum
0,9 mg Achillea millefolium
0,5 mg Aconitum napellus
0,5 mg Atropa belladonna
0,4 mg Mercurius solubilis Hahnemanni
0,25 mg Hepar sulfuris
+ Cetylstearylalkohol, emulgierender (Typ A)
+ Paraffin, dickflüssiges
+ Dickflüssiges Paraffin
+ Paraffinöl
+ Vaselin, weißes
+ Wasser, gereinigtes
+ Ethanol 96% (V/V)
Contraindications
Was spricht gegen eine Anwendung?

- Überempfindlichkeit gegen die Inhaltsstoffe

Was ist mit Schwangerschaft und Stillzeit?
- Schwangerschaft: Wenden Sie sich an Ihren Arzt. Es spielen verschiedene Überlegungen eine Rolle, ob und wie das Arzneimittel in der Schwangerschaft angewendet werden kann.
- Stillzeit: Wenden Sie sich an Ihren Arzt oder Apotheker. Er wird Ihre besondere Ausgangslage prüfen und Sie entsprechend beraten, ob und wie Sie mit dem Stillen weitermachen können.

Ist Ihnen das Arzneimittel trotz einer Gegenanzeige verordnet worden, sprechen Sie mit Ihrem Arzt oder Apotheker. Der therapeutische Nutzen kann höher sein, als das Risiko, das die Anwendung bei einer Gegenanzeige in sich birgt.
Side effects
Welche unerwünschten Wirkungen können auftreten?

- Allergische Überempfindlichkeit der Haut (Homöopathie)

Bemerken Sie eine Befindlichkeitsstörung oder Veränderung während der Behandlung, wenden Sie sich an Ihren Arzt oder Apotheker.

Für die Information an dieser Stelle werden vor allem Nebenwirkungen berücksichtigt, die bei mindestens einem von 1.000 behandelten Patienten auftreten.
Hints
Was sollten Sie beachten?
- Emulgatoren (z.B. Cetyl-/stearylalkohol) können Hautreizungen (z.B. Kontaktdermatitis) hervorrufen.

Equipment

1-3 days, depending on the destination
TRAUMEEL S tablets
1-3 days, depending on the destination
TRAUMEEL S Ampullen

1-3 days, depending on the destination
DICLO-RATIOPHARM pain gel
1-3 days, depending on the destination
VOLTAREN pain gel
Customers also bought...

1-3 days, depending on the destination
VITAMIN B12 DEPOT Inj. 1500 μg Solution for Injection
Injektionslösung
,
100X1 Pcs

1-3 days, depending on the destination
WELEDA Ratanhia Mundwasser
1-3 days, depending on the destination
WELEDA Ratanhia Zahncreme
1-3 days, depending on the destination
TRAUMEEL S Ampullen